2018 Bill Snyder Commemorative
'Fighting For a Cure' Shirt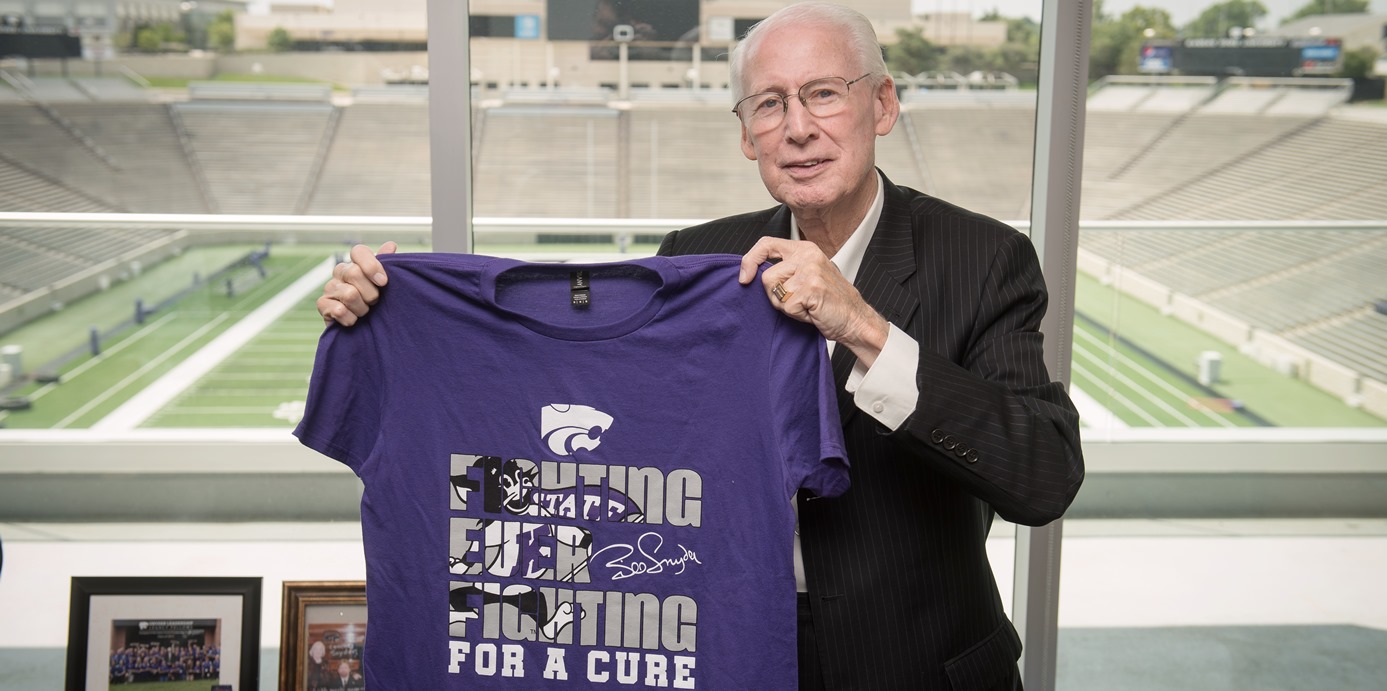 #HelpKStateFightCancer
Help K-State fight cancer with a 2018 Bill Snyder commemorative Fighting for a Cure shirt featuring Coach's signature! Show your pride by wearing it for the 5th Annual K-State Fighting for a Cure Day Oct. 13, 2018.
Join K-State Head Football Coach Bill Snyder and Sharon Snyder & family, "Modern Family" actor and K-State alum Eric Stonestreet, former Wildcat and Chiefs football player Kevin Lockett, K-State President Richard & Mary Jo Myers, Band Director Frank Tracz and many others in celebrating the university's fight against cancer and honoring its cancer survivors and researchers with a Fighting for a Cure shirt.
Cheer on the 'Cats with us Oct. 13 at the College of Arts & Sciences Tailgate Party in Cat Town, and enjoy the K-State Marching Band's special halftime salute. (See Marching Band's 2017 "Beat Cancer" formation.)
About the shirts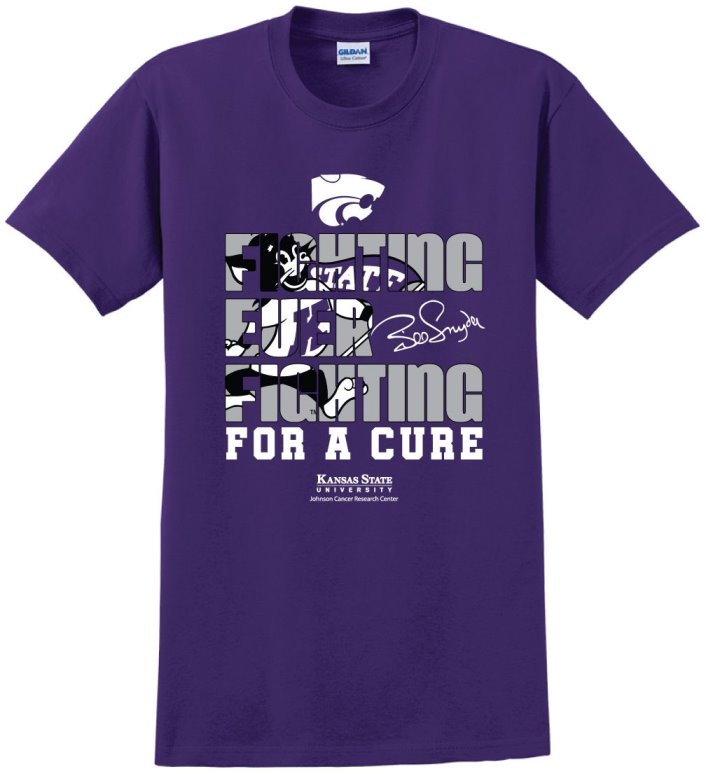 These are soft, stretchy, lightweight fashion t-shirts made of 4.5-oz. pre-shrunk, 100% RINGSPUN cotton. They are purple with the words "Fighting ever fighting for a cure" in big block letters that show an image of Willie the Wildcat. Above and beside the words are a Powercat and Coach Snyder's signature. The phrase is inspired by the K-State fight song, "Wildcat Victory."
The shirts are $25 each, with proceeds supporting K-State cancer research. Purchasing info and a link to order online are below.
SIZES: Men's Small - 3XL ¦ Ladies' Small - 2XL ¦ Youth Medium - XL
Purchase shirts
AT Johnson Cancer Research Center, 1 Chalmers Hall, 1711 Claflin Rd., Manh. (enter through courtyard at intersection of Claflin Rd. & 17th St./Pedestrian Mall, across from Gen. Myers Hall)
AT G. Thomas Jewelers, 419 Poyntz, Manh, 785-776-7600
AT 1419 Mercantile, 3039 Anderson (Plaza West), Manh, 785-320-5017
ONLINE from our Webstore powered by N Zone Shipping fee is $6.50 for 1-2 shirts or $13.50 for 3-8 shirts. For more than 8 shirts, please contact our center, 785-532-6705 or cancerresearch@ksu.edu.
---
Throwback shirts
Our first two Fighting for a Cure shirt styles are still available, while supplies last! They are $20 each and also available on the webstore.
The newer shirt, introduced in 2016, has a white Powercat. The older shirt, introduced in 2014-2015, has a pink Powercat and ribbons. Both are Gildan brand, 100% cotton. The ladies' pink Powercat shirt is a slim-fitting junior style made with 100% pre-shrunk cotton.
SIZES—Contact us to see what sizes we currently have as these could go fast, especially the pink Powercat shirts since we have very few.
SIZES in stock at last check:
-Men's Small - 3XL
-Ladies' XS - XL – The width is the same as the men's, but the shoulders are narrower and the sleeves and body are shorter. (These are not the same as the pink Powercat ladies' "junior" style shirts.)
-Youth Medium, Large and XL
PINK POWERCAT SHIRT SIZES

SIZES in stock at last check:
-Men's Small - XL (out of 2XL)
-Ladies' XS - 2XL (These are very slim-fitting "junior" style shirts; we recommend going up at least one size.)
-Youth Small, Large and XL (out of youth medium)
---
Spread the word!
Post photos on social media of you and your friends wearing the shirt, and use the hashtag #HelpKStateFightCancer!
View photos of K-State celebrities and other friends in 2014, 2015, 2016 and 2017 on Facebook. You do not need a Facebook account to view them.
LISTEN TO COACH SNYDER'S 2018 APPEAL TO K-STATE FANS TO SUPPORT K-STATE CANCER RESEARCH
Thanks!
Thanks to everyone who has bought and helped us sell shirts, and united in wearing them on Fighting for a Cure Day these past few years! Your support has helped raise more than $30,000! We also appreciate the support of Coach Bill Snyder, Sharon Snyder and the Snyder family, K-State alum and "Modern Family" actor Eric Stonestreet, former K-State and Kansas City Chiefs football player Kevin Lockett, the K-State Marching Band and others as they showed their pride in K-State's fight against cancer.
Don't want a shirt, but want to support the cause?
Make a tax-deductible gift to help K-State fight cancer. Gifts to our center support local, excellent research, the Kansas economy and some of Kansas' most brilliant students. Thank you!