Bascom Lecture Series on Current Issues in Clinical Medicine
The George S. Bascom Memorial Lecture/Workshop Series on Current Issues in Clinical Medicine, started in 1996 and named after a local physician, brings distinguished experts (pdf) to K-State to present to faculty, students, medical care providers, and the general public about challenges faced in clinical medicine and research.
Upcoming Lecture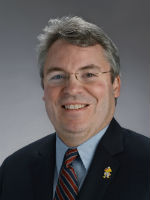 "The HPV Vaccine: A Missed Opportunity for Cancer Prevention"
Kevin Ault, MD
Mon., March 12, 2018 | 7 p.m.
K-State Student Union, Cottonwood Room
learn more
Recent Lectures
Nov. 3, 2016, Michael Hagensee, MD, PhD, presented "HPV Vaccination: From Laboratory to...Bedside?" (webpage includes video)
In 2012, Yvonne Reid, PhD, presented "HeLa Cells and Biomedical Research: The Good, the Bad and the Ugly."

Past lectures are listed on the downloadable list below.