History
Terry C. Johnson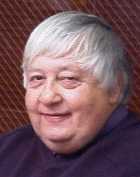 Terry C. Johnson, founding director of the cancer research center, was born and raised in Minnesota. He received his B.S. at Hamline University, and his M.S. and Ph.D. at the University of Minnesota.
He became a professor of microbiology at Northwestern University Medical School in Chicago, before moving with his family to Manhattan, Kan., in 1977, to serve as professor and director of the Division of Biology at K-State, where he eventually earned the title of University Distinguished Professor and other prestigious awards.
Dr. Johnson helped establish the center in 1980 by securing private and grant funds for an Anticancer Drug Discovery Laboratory. The center now serves as a hub to around 100 faculty researchers in 17 departments of five colleges, offering hundreds of thousands of dollars in research and educational support to them and their students every year.
Dr. Johnson passed away from cancer in October 2002, but not before earning K-State national recognition and respect for its excellent cancer research and education programs.