Virtual 2020 Cancer Research Award Recognition
Welcome to our virtual 2020 Cancer Research Awards Banquet! Unfortunately, due to the COVID-19 pandemic, we had to cancel our annual banquet scheduled for April 17. However, we still want to recognize our excellent Cancer Research Awardees and generous donors!
We invite you to view/print the event program (pdf).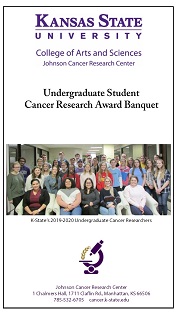 WELCOME MESSAGE FROM OUR DIRECTOR, DR. SHERRY FLEMING
View our 2020 Conquest magazine.
MESSAGE FROM AWARD RECIPIENT GABRIELLE PHILLIPS
STUDENT HONOREES
DONOR RECOGNITION
Thank you for joining in our virtual Cancer Research Awards Banquet and for all you do to help K-State fight cancer!