Education
Kansas State University students are trained to be tomorrow's top cancer scientists and medical professionals. We offer numerous opportunities, including competitive research award programs and special activities, that help students attain careers in research and medicine.
Educational efforts include:
Bringing students into the lab early in their educational program

, when it can be influential in their academic and professional decision-making.

Exposing students to cancer-related issues through special course

s in multiple departments at undergraduate and graduate levels.
Awards, scholarships, fellowships and workshops to enhance education.
Multidisciplinary programs that expose students to a variety of areas and expert researchers.
Cancer Journal Club to learn about hot topics in cancer research and practice presentation skills.
K-State Cancer Fighters

to get involved and support the center by volunteering and advocating for cancer research at K-State

.
Student researcher stories
Our undergraduate research program provides students with faculty-mentored research training. Below are stories about how personalized and unique cancer research experiences enhanced students' educational and career paths.
Beyond the classroom: Biochemistry student works on molecular switch to kill cancer cells (pdf)
Kierra Holloman, 2021 junior in biochemistry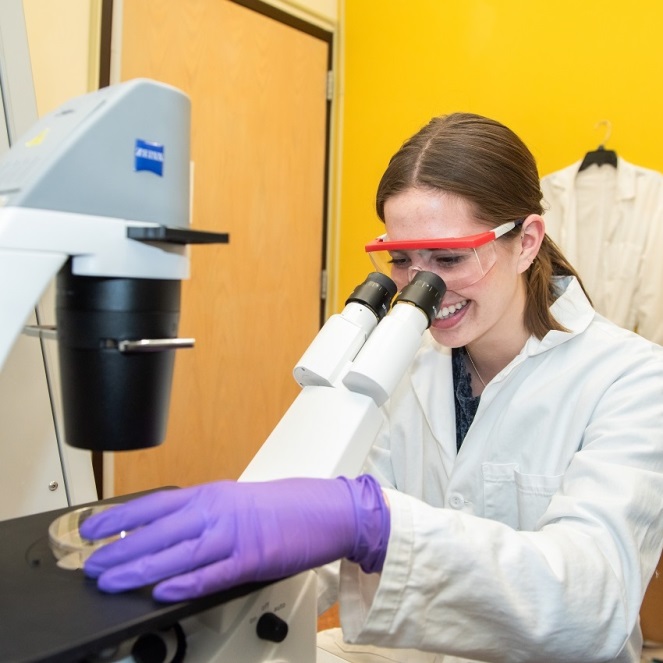 Biology major wants to help solve the puzzle of cancer (pdf)
Mackenzie Thornton, 2020 graduate in microbiology and premedicine and 2019 Goldwater Scholar
Big dreams: Undergraduate wants to save lives through medicine and research (pdf)
Vaithish Velazhahan, 2018 graduate in microbiology, medical biochemistry and pre-medicine and Gates-Cambridge Scholar
Undergraduate research opportunities create scientific foundation, new generation of cancer fighters (pdf)
Adam Schieferecke, 2017 graduate in microbiology and biochemistry and Goldwater nominee
From cow brains to human kidneys: Transplant surgeon establishes cancer research scholarship in honor of her experience at K-State (pdf)
Lori Kautzman, MD, 1999 biology graduate
Young Cancer Survivor Researching for a Cure
Gratitude From a Student Cancer Researcher
Student Award Programs
Undergraduate Cancer Research Awards
This competitive research mentoring program offers a unique opportunity for undergraduate students to participate in real laboratory research. Students and JCRC faculty members apply together, proposing a project that involves the student in the research team. Participants who fulfill their research commitments get a $1,500 award in the spring. Learn more and apply here.
Graduate Cancer Research Awards
These awards fund summer salaries for graduate students working with JCRC faculty members. Learn more and apply here.
Heart Research Awards
These awards are presented to one or more faculty members to support graduate student research on heart development, function or disease. Learn more and apply here.
Graduate Student Travel Awards
These awards help graduate students attend professional meetings and seminars to present research and meet experts in their fields. Learn more and apply here.
Research Opportunities at Other Institutions
The University of Texas Graduate School of Biomedical Sciences at Houston has a Summer Undergraduate Research Program that offers a hands-on laboratory experience for undergraduate students who wish to obtain a PhD degree and pursue a career in basic scientific research and/or science education at the college or university level.
The Greehey Children's Cancer Research Institute of the University of Texas Health Science Center at San Antonio has a Summer Research Internship Program that allows talented students who are interested in a career in academic research to spend approximately twelve weeks conducting hypothesis-driven childhood cancer research.