Co-Sponsored by K-State's Lafene Health Center
"The HPV Vaccine: A Missed Opportunity for Cancer Prevention"
Kevin Ault, MD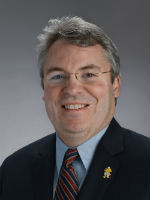 Obstetrician-Gynecologist, University of Kansas Medical Center
Professor & Division Director, University of Kansas School of Medicine

Monday, March 12, 2018 | 7 p.m.
K-State Student Union, Cottonwood Room
918 N 17th St, Manhattan, Kan.
A short reception with cookies will follow the lecture.
Video of this presentation can be viewed live (and archived) on our Facebook page.
For the past two decades Kevin Ault, MD, has been involved in the development of a vaccine against human papillomavirus (HPV). He has published in medical journals on the topics of infectious diseases, women's health and the development of the second generation HPV vaccine.
The George S. Bascom Memorial Workshop/Lecture Series on Current Issues in Clinical Medicine, started in 1996 and named after a Manhattan, Kan., physician, brings distinguished experts to K-State to present to faculty, students, medical care providers, and the general public about challenges faced in clinical medicine and research.