2016 Pink Power Luncheon


Co-Sponsored by Komen Kansas®
Pink Power Luncheon
Fri., Oct. 21, 2016 ~ 11:30 a.m. - 1 p.m.
Holiday Inn at the Campus, 1641 Anderson Ave., Manh.
This annual breast cancer awareness luncheon offers guest presentations, information about breast health and cancer risk reduction and resources, as well as lunch and door prizes. It is free to attend, but space is limited and reservations are required. Contact Marcia Locke at marcia@ksu.edu or 785-532-6705 for more information.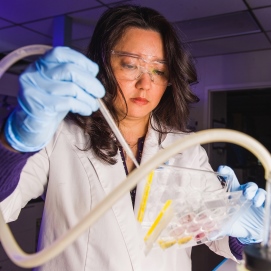 The 7th annual Pink Power Luncheon will be Oct. 21, 2016. Dr. Annelise Nguyen, toxicologist in the Department of Diagnostic Medicine/Pathobiology in K-State's College of Veterinary Medicine, will present "Understanding the Origin of and Therapies for Breast Cancer." Dr. Nguyen was featured on pg. 2 of our 2013 Conquest magazine.
For updates on this and all our events, follow us on Facebook or Twitter and sign up for our newsletter.
Photos of past luncheons