PBS Cancer Documentary Screening & Community Resource Fair
Sat., March 28, 2015, 2-4 p.m.
Manhattan Public Library (Auditorium), 629 Poyntz Ave.
We are pleased to host a special preview screening of the major PBS documentary, Cancer: The Emperor of All Maladies, at 2-4 p.m., Sat., March 28, at the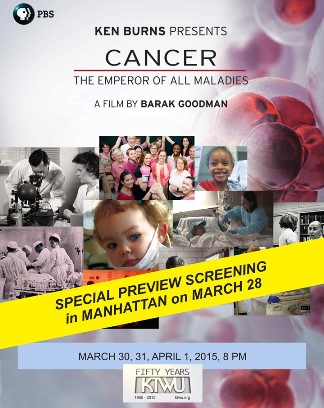 Manhattan Public Library. The event, cosponsored by KTWU 11 PBS, Topeka, will begin with a community resource fair featuring local organizations (listed below), followed by the one-hour preview of the documentary. The public is invited, admission is free and refreshments will be provided.
The three-part documentary, by preeminent filmmaker Ken Burns, is based on the Pulitzer Prize-winning book by Dr. Siddhartha Mukherjee. It will air on PBS at 8-10 p.m., March 30, 31 and April 1.
"Physician, researcher, and award-winning science writer, Siddhartha Mukherjee examines cancer with a cellular biologist's precision, a historian's perspective, and a biographer's passion." —the book's publisher, Simon & Schuster
"The series artfully weaves three different films in one: a riveting historical documentary; an engrossing and intimate vérité film; and a scientific and investigative report." —the film's website, cancerfilms.org
Screening Event Exhibitors
Kathleen Bulk, oncology nurse at Mercy Regional Health Center
advanced directives and palliative care
North Central Flint Hills Area Agency on Aging
caregiving and NCFHAAA services
Riley County Health Department
cancer screening tests
KDHE's Early Detection Works
state program for free breast and cervical cancer screening tests
Midwest Cancer Alliance, outreach arm of KU Cancer Center
skin damage detection using Dermascan
American Cancer Society
supportive programs for cancer survivors
Kansas Foundation for Medical Care, Inc.
HPV vaccination
Johnson Cancer Research Center, K-State
K-State cancer research and outreach