24th Annual Rob Regier Memorial Golf Tournament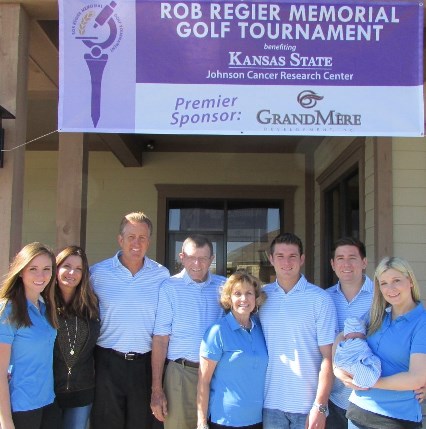 Fri., Sept. 16, 2022
1 p.m. Tee-Off
Colbert Hills, Manh., Kan.
This annual tournament honors Rob Regier, a 1988 K-State pre-dentistry graduate who died of cancer in 1992, when he was just 26 years old. Hosted by Rob's family, this 4-person scramble at Colbert Hills in Manhattan, Kansas, also offers a steak dinner, silent auction, souvenir item and prizes. It was started in 1998 by some of Rob's Sig Ep fraternity brothers in Kansas City. Rob's parents Les and Sandy continued it with help from Rob's twin brother Randy and Randy's wife Juli and daugher Ryann. Sadly, Les passed away in February 2018 after a long battle with melanoma.
Read about the Regiers in our 2016 Conquest magazine.
2022 Tournament Details
When:
11 a.m. Check-In/Registration opens
Advance registration/payment requested. Same-day registration accepted.
1 p.m. Tee-Off - Shotgun start
Immediately following tournament - Awards Banquet
Prize distribution, steak dinner and silent auction at Colbert's Restaurant
Where: Colbert Hills Golf Course
5200 Colbert Hills Drive, Manhattan, Kan.
Ph: 785-776-6475
Cost: $150/person, teams of four (assemble your own or be put with others)
Covers green fees, half a cart, dinner, prizes and souvenir gift
Prizes: Top 3 teams, longest drives and putts, closest to pin, hole-in-one
Registration: Advance registration/payment preferred to help check-in run smoothly. Mulligans can be purchased along with registration (2 for $20, 2 per golfer max). Registration requested by Sept. 2. Late and same-day registrations will be accepted.
Registration Form/Brochure (coming soon) (pdf)
Register to play golf, order additional dinner(s), buy mulligans and sponsor the tournament. Send tear-off form and payment to address on brochure.
Sponsorship: Sponsors are key to the success of this tournament! Various sponsor levels are offered. All sponsors are greatly appreciated and recognized in a variety of ways. Learn more and register as a sponsor using the tournament brochure/registration form (coming soon). (See previous tournament sponsors thanked below.)
Questions? Feel free to call or email the center at 785-532-6705 or cancerresearch@k-state.edu. We can also put you in touch with the Regiers if needed.
Follow the Facebook event page (coming soon) to get updates and help spread the word.
Thanks!
We appreciate all the work the Regier family does! We thank them and all the participants and sponsors for their generosity and commitment to K-State cancer research.
Photos from past tournaments
2021, 2019, 2018, 2017, 2016, 2015, 2014, 2013, 2012, 2011, 2010, 2009
Thanks to our 2021 sponsors!
PLATINUM SPONSOR ($2,500-$5,000)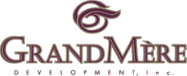 Grand Mere Development, Mary Vanier, Manhattan
DIAMOND SPONSOR ($1,500)
—
GOLD SPONSOR ($1,000)
The Lester Family, Overland Park
Steve & Kim Packebush, Wichita
SILVER SPONSOR ($500)
Larry & Edie Dahlsten, Lindsborg
Mark Keener, Richmond, Tex.
Joey Purpura, Midwest Land Group, Leawood
The Regier Family, Overland Park
BANQUET SPONSOR
Bayer Construction, Manhattan
Brent & Carrie Winans Family, Winans Oil Co., Dodge City
HOLE-IN-ONE CAR SPONSOR
Briggs Auto Group, Manhattan
HOLE SPONSOR ($150)
Aubrey Enterprises, Overland Park
Steve & Brenda Barbour, Winnebago, Mo.
Ray & Raena Borth, Leawood
Bob & Kathy Chesner, Austin, Tex.
Daniel & Courtney Clausen, Peoria, Ariz.
Mark & Amy Dobbins, Olathe
Jason & Lisa Embick, Gig Harbor, Wash.
Susan Felts, Lawrence
Kurt Folmer, Argyle, Tex.
Doug & Kathy Gaumer, Village of Loch Lloyd, Mo.
Scott Giersch, Los Angeles, Cal.
Peg Goodwin, Overland Park
John Harbison, Florence
Kevin & Brenda Harden, Shawnee Mission
David & Debbie Harris, Overland Park
Richard & Sheila Henry, Olathe
E.G. Herl, Overland Park
Larry & Mary Jo Heyka, Manhattan
Larry & Marlene Hummel, Grimes, Iowa
Kansas Farm Bureau, Manhattan
Kstate Credit Union, Manhattan
Karen McCulloh, Manhattan
James & Barbara Nunns, Rio Verde, Ariz.
William Nunns, San Diego, Cal.
Phil & Verna Ochs, Overland Park
Harlan & Kathy Oltjen, Olathe
Mike & Lorene Oppy, Manhattan
Mark & Judy Schrock, Hazelton
Don & Carolyn Srajer, Omaha, Neb.
Rose Stucky, Newton
Dianne Swann, Overland Park
Marlene Trenkle, Olathe
Lori Webster, Oklahoma City, Okla.
Jerry & Jeny Williams, Mobile, Ala.
FRIENDS OF THE REGIER TOURNAMENT
Bud & LaDonna Bailey, Neodesha
Sage & Kori Davis, Scott City
David & Kay Ediger, Newton
Nicholas Geutterman, Bucyrus
Colin Leach, Kansas City, Mo.
Jean Leeper, Carmel, Ind.
Rudy & Diane Ludwig, Salina
Carl & Barbara Meyer, St. George
Bruce & Kathleen Myers, Topeka
John Ross, III, Leawood
Bob & Kathy Sailors, Overland Park
Kurt & Angela Schell, Overland Park
E.J. Stonner, Morgantown, Ga.
SPECIAL THANKS
Betty Book, Manhattan, crocheted afghan
Jim Colbert, autographed hat
Colbert Hills, four golf passes & $100 gift certificate
GoPowercat.com, Tim Fitzgerald, Manhattan
K-State Athletics, Football & Basketball
K-State Super Store
Jeff Montgomery, Leawood, autographed baseball
Sigma Phi Epsilon fraternity
Taco Lucha, Manhattan
Tom Watson, autographed golf club
Tournament Golfers
2021 Winners
1st Place - Scott Jury, Dan McEntee, Nick Sheppard, Robert Zahner
2nd Place - Lucas Renz, Parker Renz, Tyler Struckhoff, Luke Henes
3rd Place - Doug Gaumer, David Rudicel, Randy Regier, Erick Dahl, David Harris