23rd Annual Rob Regier Memorial Golf Tournament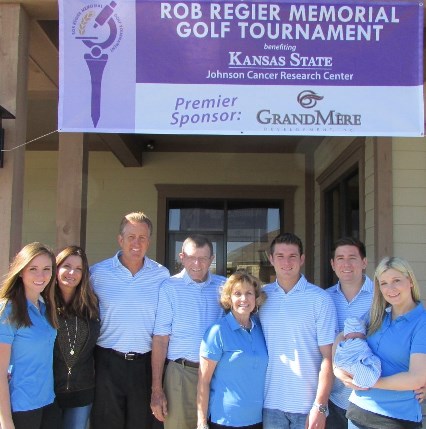 CANCELED
due to COVID-19
Unfortunately, due to the coronavirus pandemic, the 23rd Annual Rob Regier Memorial Golf Tournament originally scheduled for Oct. 2, 2020, is canceled. But please keep an eye out as they plan to come back even bigger and better in 2021!
This annual golf tournament honors Rob Regier, a 1988 K-State pre-dentistry alum who died of cancer in 1992, when he was just 26 years old. Hosted by Rob's family, this 4-person scramble at Colbert Hills in Manhattan, Kansas, offers prizes and a steak dinner. It was started in 1998 by some of Rob's Sig Ep fraternity brothers in Kansas City. Rob's parents Les and Sandy continued it with help from Rob's twin brother Randy and Randy's wife Juli and daugher Ryann. Sadly, Les passed away in February 2018 after a long battle with melanoma.
We appreciate all the work the Regiers do, and thank them and the participants and sponsors for their generosity and commitment to K-State cancer research.
Read about the Regiers in our 2016 Conquest magazine.
TOURNAMENT PHOTOS: 2019, 2018, 2017, 2016, 2015, 2014, 2013, 2012, 2011, 2010, 2009
2019 WINNERS:
1st Place Team - Phil Klebba, Keith Gido, Chris Brandt, Rich Sell
2nd Place Team - Erick Dahl, Kurt Folmer, Dough Gaumer, David Harris, David Rudicel
3rd Place Team - Scott Jury, Robert Zahner, Nick Sheppard, Dan McEntee
Closest to Pin #8 - Billy Purpura
Longest Drive (men) #16 - Bret Cook
Longest Drive (women) #16 - Carly Winans
Longest Putt #18 - Chris Webster
Help us thank our 2019 sponsors!
PLATINUM SPONSORS ($5,000-$2,500)
Harvey McCarter, Fairview, TX
Jim & Kathy Haymaker, Key West, FL
Grand Mère Development, Mary Vanier, Manhattan
DIAMOND SPONSOR ($1,500)
Johnson Cancer Research Center Advisory Council
Foulston Siefkin, LLP, Overland Park
Plumbers & Pipefitters Union Local 441, Wichita
GOLD SPONSOR ($1,000)
Doug & Vicki Hill, Saint Louis, MO
Steve & Kim Packebush, Wichita
Stuart & Anne Schaefer, Sammamish, WA
SILVER SPONSORS ($500)
Larry & Edie Dahlsten, Lindsborg
Adam & Jenny Gregg, Wichita
Dennis & Chris Olin, Stockton, CA
Regier Family, Overland Park
Paxson & Kelly St. Clair, Mission Hills
Marlene Trenkle, Olathe
Bluemont Hotel, Manhattan
Champion Teamwear, Manhattan
BANQUET SPONSOR
Bayer Construction, Manhattan
HOLE-IN-ONE CAR
Briggs Auto Group, Manhattan
HOLE SPONSORS
Steve & Brenda Barbour, Lake Winnebago, MO
Ray & Raena Borth, Leawood
Jim & Joannie Butler, The Villages, FL
Bob & Kathy Chesner, Austin, TX
Denell Family, Kansas City, MO
Mark & Amy Dobbins, Olathe
Jason & Lisa Embick, La Crescenta, CA
Susan Felts, Lawrence
Scott Giersch, Los Angeles, CA
Jad & Erin Gleue, Omaha, NE
Larry & Wanda Gleue, LeRoy
Peg Goodwin, Overland Park
Kevin & Brenda Harden, Shawnee Mission
David & Debbie Harris, Overland Park
Larry & Carolyn Heintz, Oak Harbor, OH
E.G. & Stephanie Herl, Overland Park
Larry & Marlene Hummel, Grimes, IA
Mike & Elaine Jacobson, Kansas City, MO
Kstate Credit Union, Manhattan
Kansas Farm Bureau, Manhattan
Phillip Klebba & Sally Newton, Manhattan
Rick & Jalayne Nelson, Iola
Nunns Construction, Hutchison
Tom Nunns, San Diego, CA
Phil & Verna Ochs, Overland Park
Jay & Rita Oltjen, Leawood
Harlan & Kathy Oltjen, Olathe
Mike & Lorene Oppy, Manhattan
Linda & Missy Patton, Lovelland,TX
Les & Amy Pelfrey, Overland Park
Randy & Juli Regier, Overland Park
Jim & Cibyl Ronen, St. John
Jack & Olwyn Ross, Leawood
Mark & Judy Schrock, Hazelton
Jerry & Jeny Williams, Mobile, AL
Brent & Carrie Winans, Dodge City
Byron & Bev Winans, Dodge City
Pete & Connie Winans, Newton
FRIENDS OF THE REGIER TOURNAMENT
Bud & LaDonna Bailey, Neodesha
James & Carol Burrows, Overland Park
Jeff & Melissa DeGasperi, Overland Park
David & Kay Ediger, Newton
David Gaumer, McKinney, TX
Larry & Mary Jo Heyka, Council Grove
Rich & Sheila Henry, Olathe
Mark & Heidi Keener, Richmond, TX
Colin Leach, Kansas City, MO
Jay & Paula Little, Leawood
Bruce & Kathleen Myers, Topeka
Bob & Kathy Sailors, Leawood
Kurt & Angela Schell, Overland Park
The Walt Disney Foundation, Burbank, CA
Alan Weeks, Hutchinson
IN-KIND GIFTS
Bluemont Hotel, Manhattan, Golfers' Gift Bags
GoPowercat.com, Tim Fitzgerald, Manhattan, Advertising
GTM Sportswear, Manhattan
Brad and Lindy Enlow, 3 Purple Golf Grips