K-State Cancer Fighters
K-State Students Helping K-State Fight Cancer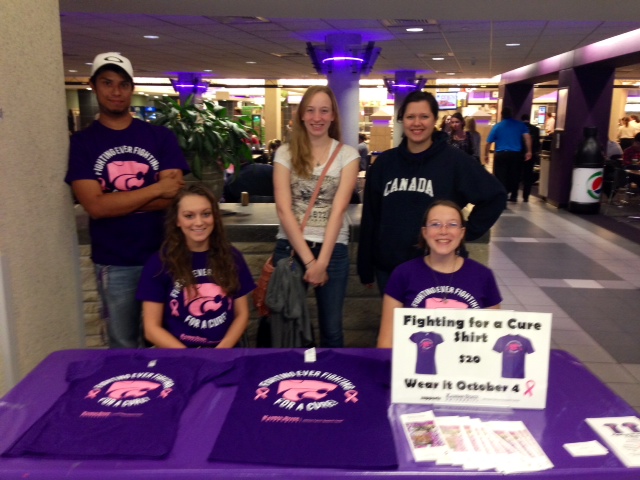 The K-State Cancer Fighters student organization is dedicated to raising awareness of cancer, risk reduction and K-State cancer research, and supporting the university's Johnson Cancer Research Center. Members serve as ambassadors, volunteers and fundraisers for the center, which supports and advances cancer research and education/training of students and faculty at K-State.
All students interested in making a difference in the fight against cancer, no matter their field of study, are encouraged to join. Members come from all walks of life, ranging from cancer research students to students who've been personally affected by cancer. All join to help fight cancer.
The Cancer Fighters help the Johnson Cancer Research Center with fundraisers and outreach activities, and plan their own. They have represented the center at athletic events; helped at benefit parties, dinners, rodeos and more; and planned their own outreach activities on campus.
K-State students can join Cancer Fighters on K-State's OrgCentral (only kstate students are able to login - once logged in, search "cancer" to get to page) and everyone may follow them on Facebook/Twitter and Instagram. If you have questions, contact club advisor, Sherry Fleming, Director of the Johnson Cancer Research Center.