Fighting, ever fighting, for a cure!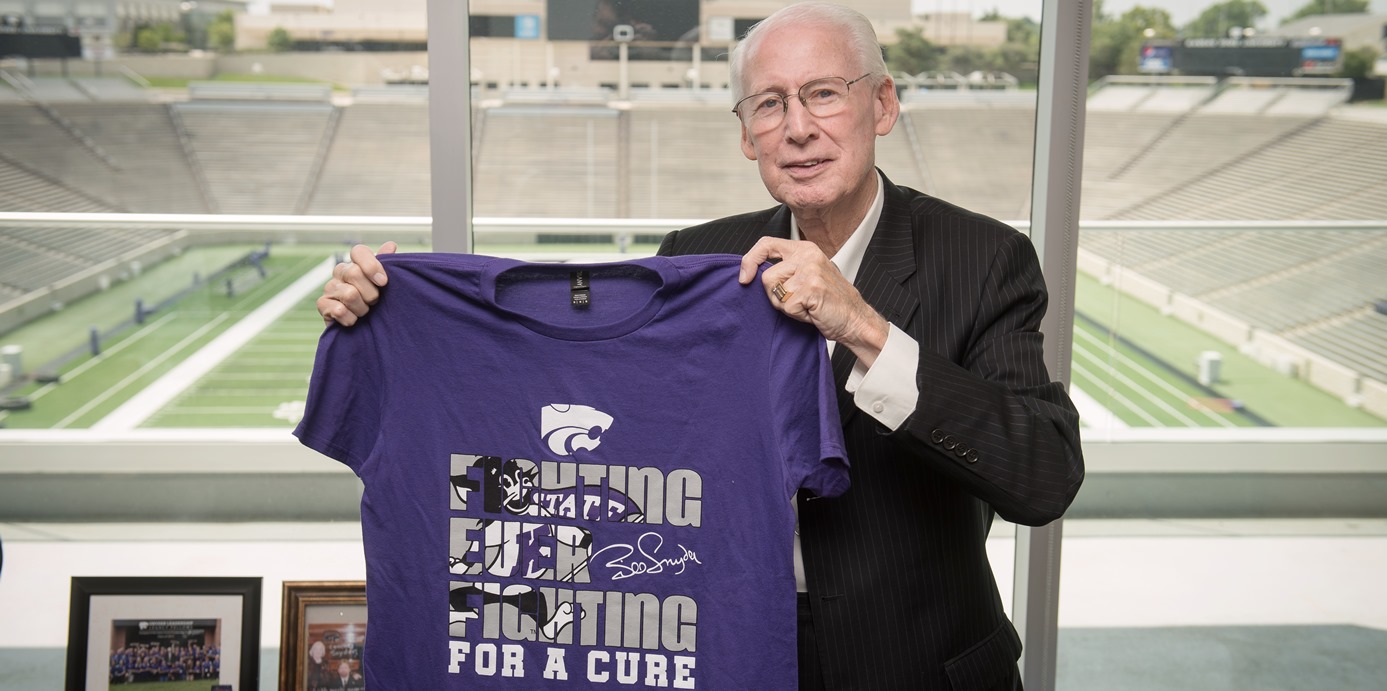 Get your Bill Snyder commemorative shirt for K-State's 5th Annual Fighting for a Cure Day October 13, 2018! You can also help K-State fight cancer by making a gift that will be matched! A generous supporter of our center will match gifts up to $10,000 until Oct. 13!
Give here to have your gift matched! Learn more
Thanks for your support! #HelpKStateFightCancer
LISTEN TO COACH SNYDER'S APPEAL TO K-STATE FANS TO SUPPORT K-STATE CANCER RESEARCH
Welcome
The fight starts here! From nanoparticles and stem cells to antioxidants and drug discovery, Kansas State University faculty are conducting the basic and translational cancer research that leads to improved prevention, diagnostics and treatments, as well as training future scientists.
Research
Scientists in 100 labs are demystifying cancer from many angles.

Education
Students are training to be the next generation of researchers.

Outreach
Cancer information and resources are provided to the public.
News & Communications
Sept. 11, 2018 - The ninth annual Pink Power Luncheon for breast cancer awareness, co-sponsored by Kansas State University's Johnson Cancer Research Center and the Kansas Affiliate of Susan G. Komen, will be from 11:30 a.m. to 1 p.m. Tuesday, Oct. 23, at the Holiday Inn at the Campus, 1641 Anderson Ave. The public is invited to this free event, but reservations are required. read more
Aug. 31, 2018 — When it comes to helping K-State fight cancer, you can make it a double. Between now and Oct. 13, gifts to the university's Johnson Cancer Research Center will be matched by a center supporter. The anonymous donor will match gifts to the Fighting for a Cure campaign, up to $10,000, until Oct. 13. read more
Aug. 28, 2018 — Celebrate K-State's fight against cancer with a Bill Snyder commemorative Fighting for a Cure shirt, and wear it to the home football game or anywhere Saturday, Oct. 13, for the university's fifth annual Fighting for a Cure Day. read more
Fighting for a Cure Shirt Sale at K-State Farmers Market - Wed., Sept. 26, 2018, 11 a.m.-1 p.m., Bosco Student Plaza, K-State Student Union
Rob Regier Memorial Golf Tournament - Fri., Oct. 12, 2018, Colbert Hills, Manh.
K-State Fighting for a Cure Day - Sat., Oct. 13, 2018, everywhere
Pink Power Luncheon - Tue., Oct. 23, 2018, Holiday Inn at the Campus, 1641 Anderson Ave., Manh.
More events & details