Welcome
The fight starts here! From nanoparticles and stem cells to antioxidants and drug discovery, Kansas State University faculty are conducting the basic and translational cancer research that leads to improved prevention, diagnostics and treatments, as well as training future scientists.
Research
Scientists in 100 labs are demystifying cancer from many angles.

Education
Students are training to be the next generation of researchers.

Outreach
Cancer information and resources are provided to the public.
News & Communications
Wear your K-State Fighting for a Cure shirt to the home football game or anywhere Oct. 8, 2016, in celebration of the K-State family's united fight against cancer and Breast Cancer Awareness Month! Cheer on the 'Cats with us that day at our Tailgate Party in Cat Town, and see the K-State Marching Band's special salute during the half-time show.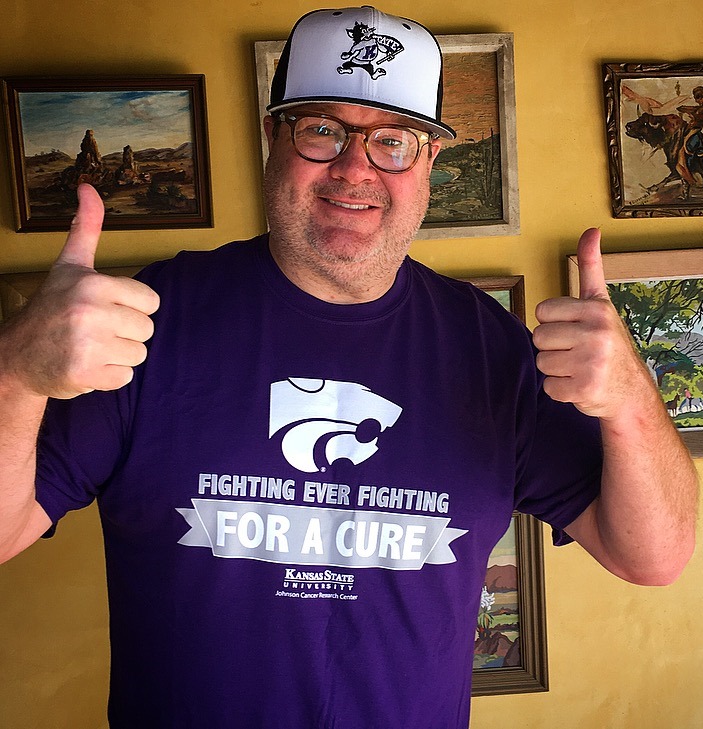 Sept. 22, 2016 - "Modern Family" actor Eric Stonestreet, an alumnus of Kansas State University, has donated $50,000 to the university's Johnson Cancer Research Center to support a promising research project.

"Cancer research is near and dear to my heart because, like so many others, it's touched my life," said Stonestreet, referring to his mother's and other family members' battles with the disease.

Stonestreet's gift will immediately advance collaborative research being done by two chemistry professors to develop a technology to detect cancers at their earliest stages, when they are more likely to be curable. read more
Sept. 15, 2016 - Show your pride in K-State cancer research with a Fighting for a Cure shirt, and wear it to the home football game or anywhere Oct. 8 for the third annual K-State Fighting for a Cure Day. Join Wildcat football's first lady Sharon Snyder and the Snyder family, Emmy Award-winning actor and Kansas State University alumnus Eric Stonestreet, Kansas State University Director of Bands Frank Tracz and many others in celebrating the university's fight against cancer and honoring its cancer survivors and researchers. read more
August 24, 2016 - Golfers can help Kansas State University fight cancer at the 19th annual Rob Regier Memorial Golf Tournament Friday, Oct. 7. Proceeds will support the Johnson Cancer Research Center. The tournament honors Rob Regier, a 1988 graduate of K-State in pre-dentistry who died of cancer at age 26. read more
Advisory Council Fall Meeting - Sat., Oct. 1
Rob Regier Memorial Golf Tournament - Fri., Oct. 7, 1 p.m. shotgun start, Colbert Hills Golf Course
K-State Fighting for a Cure Shirt Day - Sat., Oct. 8 (NEW SHIRT DESIGN!)
Tailgate Party in Cat Town - Sat., Oct. 8, at Cat Town, Bill Snyder Family Stadium south end of west parking lot
Pink Power Luncheon - Fri., Oct. 21, Holiday Inn at the Campus
George S. Bascom Memorial Lecture on Current Issues in Clinical Medicine - Thu., Nov. 3, 7 p.m., K-State Student Union Little Theatre. "HPV vaccination: from laboratory to...bedside?" by Michael E. Hagensee, Professor, Section of Infectious Disease, Louisiana State University Health Sciences Center
More info about events