Welcome
The fight starts here! From nanoparticles and stem cells to antioxidants and drug discovery, Kansas State University faculty are conducting the basic and translational cancer research that leads to improved prevention, diagnostics and treatments, as well as training future scientists.
Research
Scientists in 100 labs are demystifying cancer from many angles.

Education
Students are training to be the next generation of researchers.

Outreach
Cancer information and resources are provided to the public.
Fighting, ever fighting, for a cure!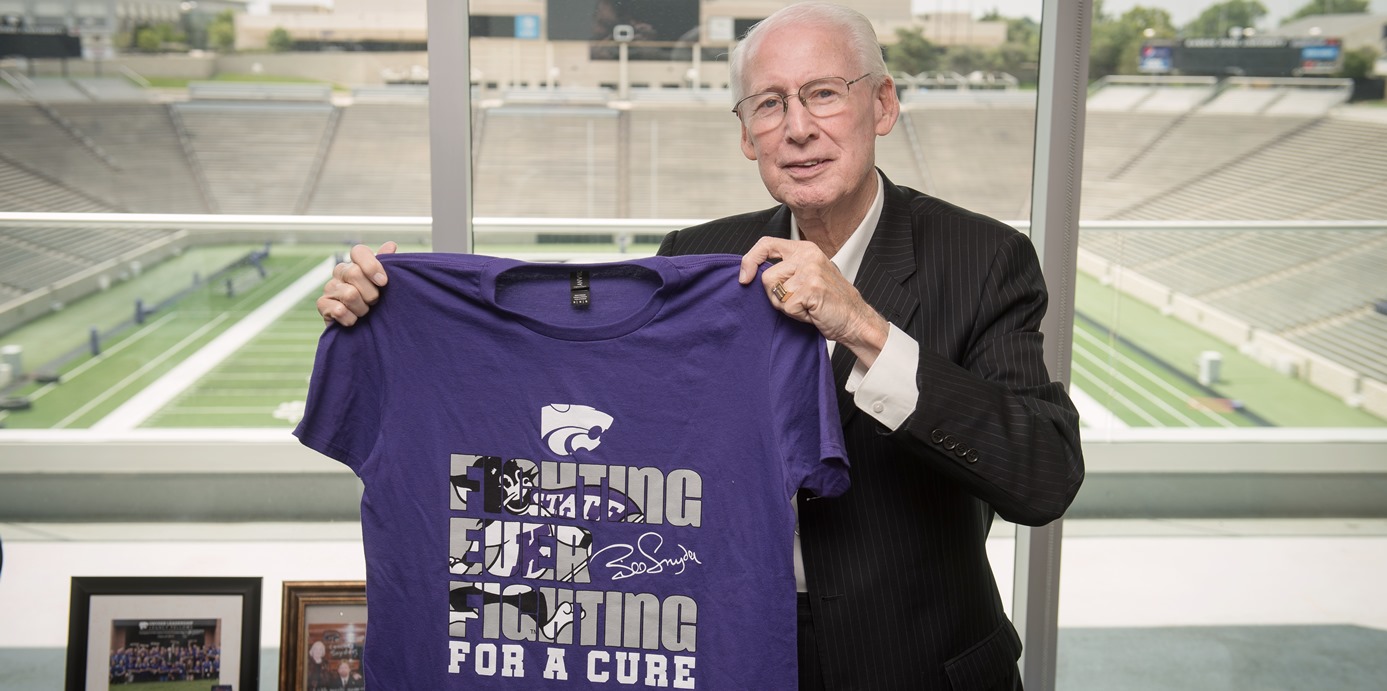 Get the Bill Snyder commemorative Fighting for a Cure shirt to support cancer research and education at Kansas State University and honor the K-State family's cancer survivors and researchers! Thanks for your support! #HelpKStateFightCancer
News & Publications
May 16, 2019 - Three K-State undergraduate student researchers are among the 2019 national Barry M. Goldwater scholars. All three work with Johnson Cancer Research Center affiliated research teams. Erianna Basgall, junior in biochemistry, Ellis; Mackenzie Thornton, junior in microbiology and pre-medicine, Leawood; and Gabrielle Phillips, senior in chemical engineering, Wichita; have received the prestigious Goldwater scholarship. read more
May 1, 2019 - Kansas State University has named five professors as 2019 university distinguished professors, the highest honor the university bestows on its faculty members. Stefan Bossmann, cancer research affiliate in chemistry, is one of the professors receiving this lifetime distinction. read more
March 12, 2019 - Two Kansas State University graduate students—Obdulia Covarrubias Zambrano, doctoral student in chemistry, Liberal, and Ana Stoian, doctoral student in pathobiology, Romania—received statewide recognition for their Kansas-related research at the 16th Capitol Graduate Research Summit, Feb. 27, at the State Capitol in Topeka. read more
Bill Snyder Highway Half-Marathon & 5K - May 25, Manhattan
You'll Never Run Alone 5K honoring Frank Alonso and supporting K-State's Center of Excellence for Pancreatic Cancer Research - Aug. 17, Manhattan
More events & details