The Cure Starts With Us!
#HelpK-StateCureCancer

The Cure Starts With Us - Scientists, Students and Supporters. With a new slogan, comes a new t-shirt! In spring 2023, the Johnson Cancer Reserch Center hosted a t-shirt design contest. The winning design is on our 2023-2024 t-shirts in lavendar and gray. Daily, the scientists and students perform basic cancer research to design and generate new treatments, diagnostics and methods of prevention. However, this would not be possible without help from the supporters!
Get your shirt now before they are gone 😊 Everyone will be wearing them at the September 23rd home football game in honor of K-State's family…cancer has touched all of us in one way or another. Watch the Marching band's performance at the game and help with our Johnson Cancer Research Center's initiative "Wildcats give $10 to Cure Cancer"!
Apparel proceeds benefit the Johnson Cancer Research Center at K-State. Don't want a shirt? Donate to The Cure Starts With Us.
2023 The Cure Starts With Us Shirts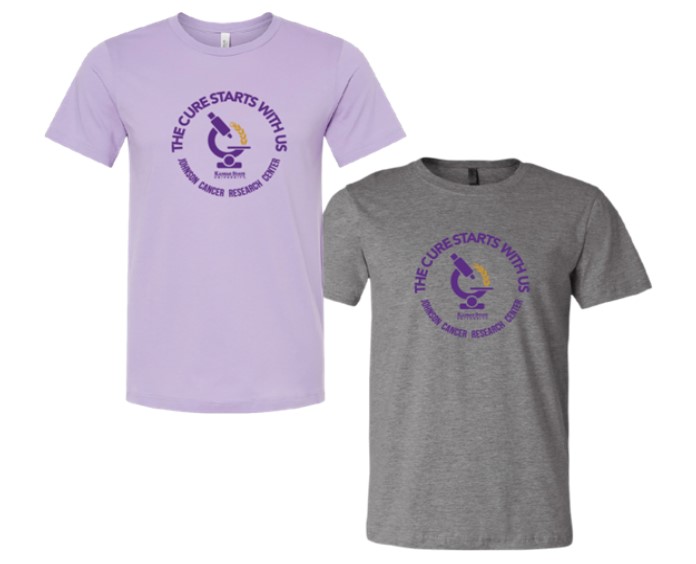 New t-shirts will be available in either lavendar or gray ! Both colors of shirts have purple text and a the purple and gold microscope. All items feature the new slogan "The Cure Starts With Us".
Buy Shirts
We welcome you to call to check on our stock, 785-532-6705.
T-Shirt - $20
Purple Unisex T-Shirt spec sheet
Gray Unisex T-Shirt spec sheet
Questions? Contact us at cancerresearch@k-state.edu or 785-532-6705 to ensure we have your shirt in stock or learn about parking or anything else.
Spread the word!
Post photos on social media of you and your friends wearing the shirt, and use the hashtag #HelpKStateCureCancer!
COACH SNYDER'S 2023 APPEAL TO SUPPORT K-STATE CANCER RESEARCH
Special Thanks for Supporting the Fighting for a Cure
Thank you to everyone who has bought and helped us sell shirts, and united in wearing them on Fighting for a Cure Day throughout the years!

Your support of the Fighting for a Cure shirts has raised more than $76,500 ! We also thank former Head Football Coach Bill & Sharon Snyder, current Head Football Coach Chris Klieman, actor and alum Eric Stonestreet, former Wildcat and Chiefs football player Kevin Lockett,and many others in celebrating K-State's fight against cancer with a Fighting for a Cure shirt.
View photos of Fighting for a Cure K-State celebrities and other friends in 2014, 2015 , 2016 , 2017 , 2018, 2019, 2020 and 2021 on Facebook. You do not need a Facebook account to view them.
Special thanks to Coach Bill & Sharon Snyder & family and the K-State Marching Band!