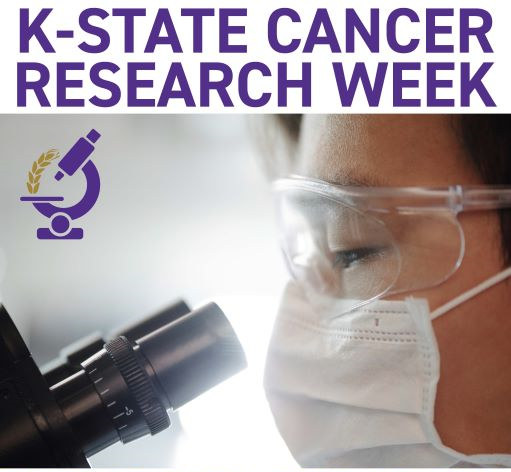 SEPT. 18, 2023- Sept. 23, 2023
The Johnson Cancer Research Center will host the 2023 K-State Cancer Research Week Sept. 18-23 on the Manhattan campus. The week is full of cancer research-related events to inform the public about the basic cancer research performed at K-State and fundraising events.
The events will be held in the Manhattan area on campus and at local businesses in the surrounding area. The week kicks off Monday, Sept 18th with an Open House event from 11am-3pm. Visitors and students can tour labs across campus and speak with some of the leading cancer researchers in the university.
On Wednesday, September 20th, Manhattan Brewing Company will be hosting Meet the Researcher. Guests can learn about cancer research from K-State's own researchers while enjoying delicious local brews.
Next on Friday, September 22nd the Cancer Data Blitz will be held in the Union and will be hosted by the legendary local EMCEE Dave Lewis. Researchers and Faculty members will only have two minutes and two slides to present their research and information. Recent graduate cancer research awardees will also present their work in poster format.
Football game on Sept. 23rd
read more
Monday, Sept 18, 2023
Johnson Cancer Research Center Open House with some labs across campus open for tours as well.

Wednesday Sept 20, 2023
7-9 pm Meet the Researcher with Science on Tap a Manhattan Brewing Company
Friday, Sept 22, 2023
11:30 am-1:30pm Cancer Data Blitz in the Union